... is a bad motherfucker.
I'm sure much has been written about
Malcolm Catto
since the release of the
Heliocentrics
LP and the new Untitled MRR-ADM 10" (aka
Dirty Drums
and formerly known as MHE - you
have
to click the Dirty Drums link! That shit will have you buggin' out for hours). Some people might know him from his work with DJ Shadow or Connie Price and The Keystones ("Bloods Haul") or his work with Yesterday's New Quintet, or from his solo work on Mo Wax, and some might even know him as having one of the illest record collections on the planet, but I know him from his work with The Soul Destroyers.
I first heard about The Soul Destroyers around 2000 or so. I was buying tons (tonnes?) of new funk at the time and they were head and shoulders above the rest just murdering shit - most of it thanks to the drumming of Catto. Dude is a beast for real. Just check some of the songs I posted below and you'll see why some consider him one of the best funk drummers in the world.
The Soul Destroyers - Armadillo
This is the second 7" they released and while
"Blow Your Top"
will forever be the shit, this song definitely comes close. Check out how he flips the time signature of the break and comes right back in on beat. Ridiculous.
Malcolm Catto - Copter
"Copter" was his first release on Mo Wax. It originally came out as a 7" , but the version I posted is from the "Rock" 12" that was released shortly after. This is the song in it's entirety. He plays all the instruments on this single from what I remember.
MRR-ADM feat. Malcolm Catto - Untitled 2*
This is just one of the joints from the new record everyone is scrambling to get a copy of (dudes are already selling it for $50 on ebay - wtf?!). From what I understand one side is original MRR-ADM compositions while the other side features Catto on 3 tracks. This is just a sample, believe me. You can still find some copies at
Turntablelab
and
Fat Beats.
_____________________________________________________________________________________________


Thanks to everyone who came out to the People Under the Stairs show last Friday. We had a blast!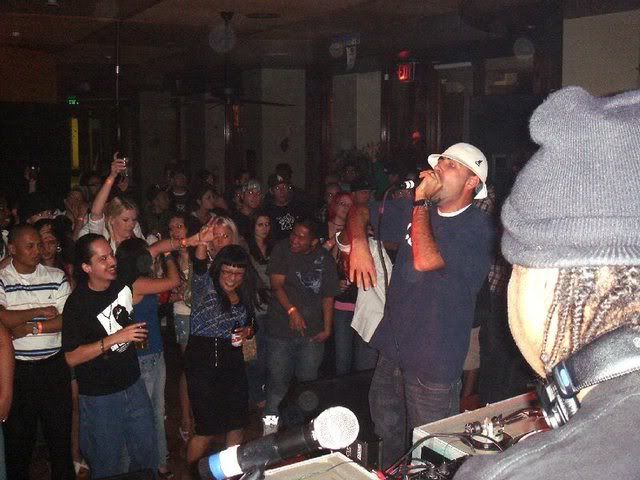 "put your arm around me, dude!"



Inside jokes don't work well with big crowds of people!